There's a renewed focus in our society on learning trades from some quarters. Trades like becoming an HVAC technician may be easier to enter now that some states are proposing free tuition to two-year colleges where you can earn a technical degree. You don't have to get a two-year degree to become an HVAC; you can start working on becoming a certified technician as soon as you graduate from high school.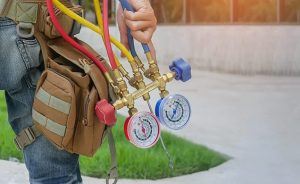 Apprenticeship
This will take several years where you will work directly under an experienced technician. You'll learn the trade, gaining practical experience while preparing to become certified.
Trade School Certification
With a high school diploma, you can apply to a trade school specifically to earn training as an HVAC technician. This will usually take a year. You'll be ready to strike out on your own; however, you'll have to find work on your own.
Two or Four-Year Degree
This path takes the longest before you start working, and it is the most expensive. However, getting a degree may have several advantages. Employers may look more favorably at someone with a deep knowledge of the technology involved in the field. You may find it easier to pass the certification exams.
HVAC Career Paths
However you get your training, you'll have the chance to take advantage of a wide variety of work within the HVAC trade. There are several possible jobs and specialties within the HVAC field and are not limited to these options.
Residential Technician
You take calls to install, maintain or repair heating, cooling or refrigeration units in someone's home. You can work for an organization or as an independent business owner
Corporate Technician
You can install and maintain larger units in office buildings or factories. You can work as an independent contractor or as part of a team that works for the company that owns the facility. You can move up the ladder to service manager where you'll oversee the work of others.
Systems Engineer
With proper training, you may go from working on and servicing units to designing and building them from the ground up.
Working as an HVAC technician can lead to long hours of very physical work. However, it is a rewarding career path for the mechanically inclined. For those who like to solve problems and help people, becoming an HVAC technician might be the right choice.
Heating Repair in Huntsville
Beckham & Jones Heating & Air Conditioning has been meeting the heating and cooling needs of Huntsville residents and commercial businesses for more than 60 years. Contact us today if you are in need of furnace repair, installation, or maintenance services!