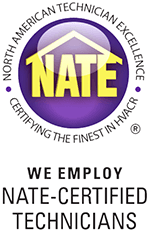 When choosing the best HVAC (Heating, Ventilation, and Air Conditioning) contractor for your heating or air conditioning needs, it is important that they have reliable, qualified and nationally certified installers and service technicians on staff. If an HVAC technician or installer has NATE certification it means that they have met a national standard for competence in one or more aspects of the HVAC industry. These areas include air conditioning, heat pumps, oil heating and gas heating.
What is NATE?
NATE (North American Technician Excellence) is an independent organization affiliated with the US Environmental Protection Agency (EPA) and the American Society of Heating, Refrigeration, and Air Conditioning engineers.
What is NATE Certification?
NATE certifies HVAC installers or service technicians using a knowledge-based test. Applicants are required to pass both a core knowledge and a specialty section of the installation or service exams with a minimum passing score of at least 70%. The NATE exam is quite rigorous, and many test takers have to take the exam numerous times before passing it.
What are the Different Categories of NATE Certification?
The different categories of basic NATE Certification include Ready to Work Certification, HVAC Support Technician Certification, Professional Level Certification and Specialty Certification. The Ready to Work Certification is for those at an entry level or in an early stage of their careers. The HVAC Support Technician Certification is for those who have worked in the HVAC industry for from 6 to 12 months. The Professional Level NATE Certification is for those who have had at least 2 years of experience in the HVAC industry.
What are the NATE Specialty Certification Areas?
The NATE areas of specialization include:
Air Conditioning
Air Distribution
Hydronics Oil
Light Commercial Refrigeration
Commercial Refrigeration
HVAC Efficiency Analyst Sr. Level
Industry Competency Examiner
Call Beckham and Jones Heating and Air Conditioning Today for a Free HVAC Evaluation
Call us today for a free estimate for a new installation or for HVAC service. Beckham and Jones Heating and Air Conditioning is a full-service HVAC company that is family owned and operated since 1946. With more than 60 years of experience in the HVAC industry, we provide 24/7 service for emergencies. All our technicians are experienced, and NATE certified.